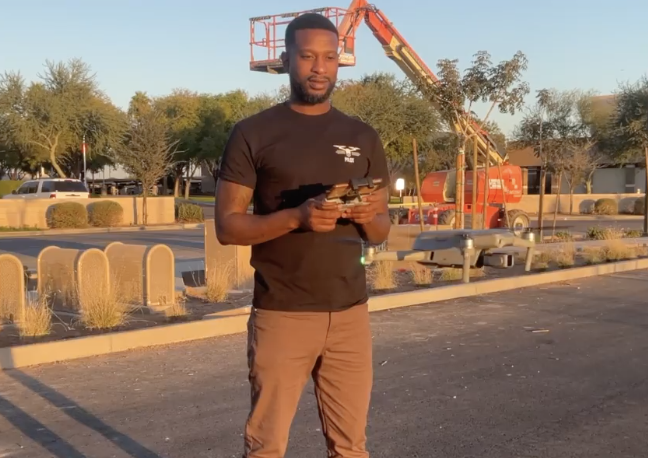 ---
As exciting as it sounds, becoming a certified drone pilot takes a lot of work and dedication. It's not as straightforward as it sounds—especially if you plan to become a certified drone pilot for well-paid and high-quality jobs.
First off, let's go over what a drone pilot is. To put it very simply, a drone pilot is an individual who operates a drone—otherwise known as an unmanned aerial vehicle (UAV).
In the world of commercial drones, certified drone pilots operate for companies, military and government agencies, and other industries. Drones are generally used to take photographs, videos, and/or ollect data.
What Does a Drone Pilot Do?
Drone pilots can take on a variety of jobs. There are many different industries in which a drone pilot can work, including but not limited to:
Real Estate: Over the years, using drones for real-estate promotions and marketing has become extremely popular, as they offer an unique and innovative way to capture images and videos of a property.
Marketing: Drones offer creative ways to implement marketing campaigns in a wide range of industries. 
Surveying: Drones help surveyors conduct examinations and can provide helpful information.
Construction Projects: Many construction companies use drones for photos and other data—including 3D images.
Inspections: Drones can be used for inspections in hard-to-reach areas.
Entertainment: Drones have become increasingly popular in the entertainment industry, including filming concerts, live-sporting events, movies, television shows, and more.
Safety Measures: Drones have the ability to help in public-safety measures, such as assisting firefighters.
Commerical Options for certified drone pilots include filming real-estate videos, such as this one below by The Droning Company Featured Pilot Nathan Sheets.  
How to Become a Drone Pilot?
As mentioned previously, becoming a certified drone pilot is not as simple as it sounds. In fact, there are very important steps that you must take in order to become certified:
•  Buy, Rent, or Get Access to a Drone Subscription
If you join a company, you may be able to have the company provide you with a drone. On the other hand, many drone pilots end up purchasing, renting, or getting a drone subscription so they can practice their skills on their own time. Be sure to do thorough research when acquiring a drone. Some drones have more-advanced features you may need for your projects, or you may need to purchase additional equipment to do a job.
•  Prepare and Study 
Another essential step in becoming a certified drone pilot includes studying for the exam provided by the Federal Aviation Administration (FAA). This exam is only necessary for individuals who wish to become a commercial drone pilot. Be sure to prepare and study for the exam thoroughly. Additionally, you should review the latest requirements and guidelines regarding drones. While you can study independently, there are also online study groups you can join, as well as training courses and study guides. The more prepared you are for the exam—as well as for your commercial tasks in the future—the better pilot you can become.
•  Register and Pass the FAA Exam
Once you are prepared for the FAA exam, be sure to register for it. Once you are registered, you will be able to take the exam. You must pass the exam in order to become a commercial pilot. The exam covers a variety of topics, including drone laws and regulations, Flight restrictions, weather plans, airport operations, and maintenance. There are about 60 multiple-choice questions on the exam and you are given two hours to complete it.
•  Acquire a Remote Pilot Certificate
Once you've passed your FAA exam, the next step is to complete the online application for a remote pilot certificate.
Register Your Drone
If you received your remote pilot certificate through the FAA, then you will need to register your drone. This can be done online and will be valid for three years.
Practice
The more practice and experience you have, the more specialized you will be in drone flying. This will help you expand your roles as a commercial drone pilot and provide you with great commercial opportunities.
Discover the Roles that Suit You
Once you have become certified—and have practiced enough to become excellent at operating a drone—think about the type of industry you would like to work in. Photography and videography for real estate or entertainment? Freelance marketing gigs? Surveying? Construction? There are a wide range of opportunities out there.
Perhaps you just want to take it on as a part-time hobby or maybe full time? Whatever it is, the opportunities are endless—especially when you are good at what you do.
Additionally, having a helpful online resource offering information about the droning industry will be extremely beneficial to your growth. The Droning Company offers news, pilot columns, peeks at the latest tech innovations, pilot tips and tricks, product reviews, up-to-date FAA news, and more–everything you need to know about the drone industry. It doesn't just stop there, either. We also help drone pilots find jobs and post their skills on the The Droning Company website.
So...
Are you ready to become a certified drone pilot?