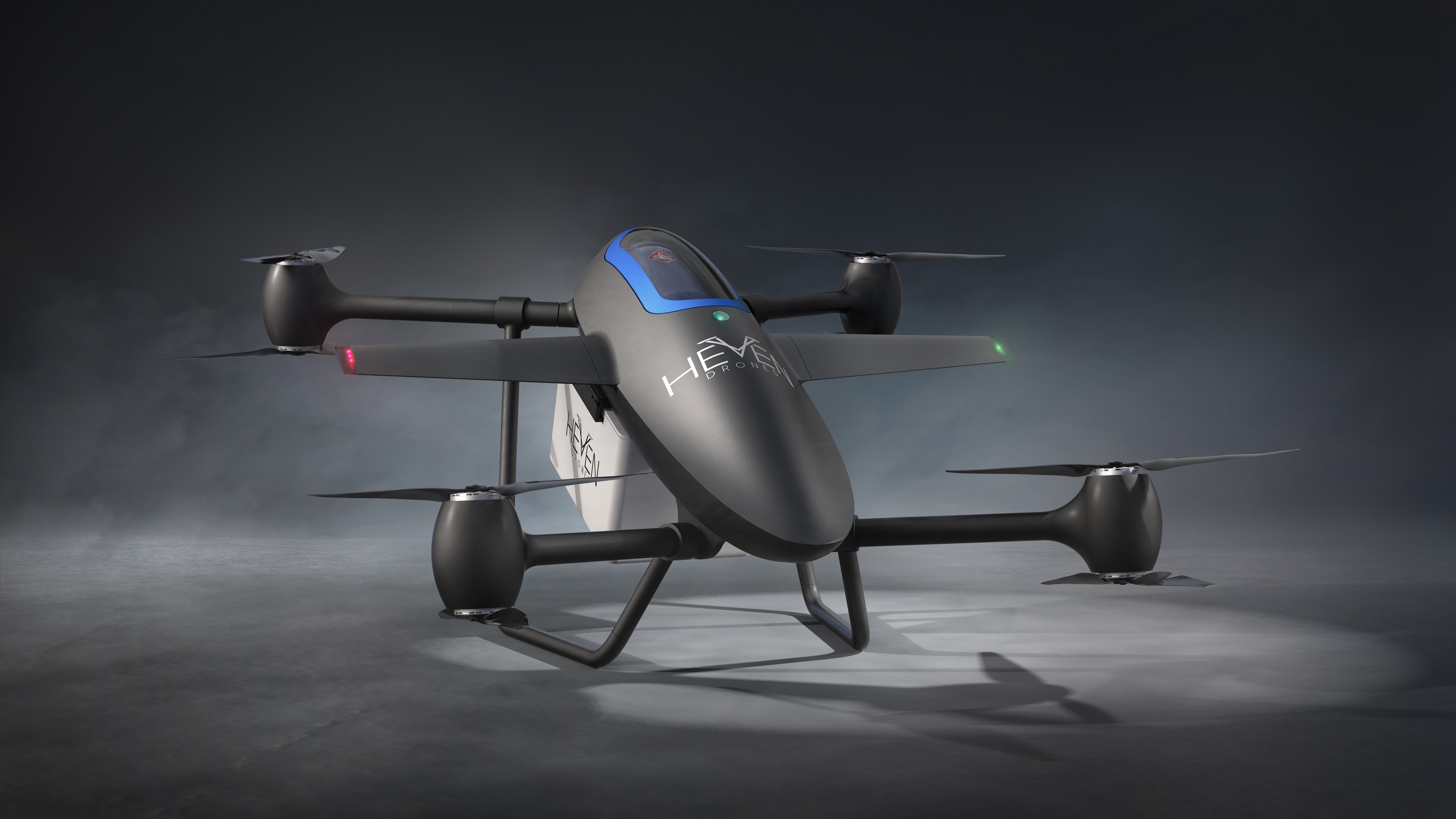 ---
Photo Above: H2D55
29 March 2023
As The drone industry is growing rapidly, HevenDrones believes that the future is about flying robots performing tasks as part of a wide ecosystem of autonomous mobility and warfare. From delivery and logistics to emergency response and infrastructure repair, the future of drones is actionable and autonomous, and these are exactly the innovative platforms the company develops and manufactures.
Reimaging What Drones Can Do
As a leader in the development and commercialization of actionable drones, HevenDrones develops and manufacture cutting-edge drone platforms, capable of solving a range of commercial, infrastructural, humanitarian, and military challenges.
From autonomous last-mile delivery to emergency response, smart cities, and infrastructure repair, HevenDrones develops and manufactures actionable drones, designed to drive energy efficiency and sustainability across a range of commercial ecosystems. Providing the required balance between payload and endurance while ensuring a low lifecycle cost, HevenDrones' platforms increase operational efficiency, lower the total cost of ownership, drive sustainability & reduce exposure of humans to dangerous jobs.
Named "Most Disruptive Hydrogen Mobility" Company by Monaco Hydrogen Alliance, HevenDrones offers a unique combination of technological expertise with a strong commitment to a more energy-efficient, hydrogen-based, drone ecosystem.
Make Way for the Hydrogeneration
In 2023, HevenDrones launched its first hydrogen-powered drone for commercial use, the H2D55. With five times greater energy efficiency than traditional lithium battery-powered drones, the H2D55 can fly for 100 minutes with a payload capacity of 15 lbs.
Addressing the challenge of flight endurance and payload capacity associated with lithium battery-powered drones as well as the long-term environmental impact linked to lithium mining, the H2D55 is a real game-changing platform. In addition to being lightweight, the H2D55 is programmed with a control system that contains multiple gyroscopes and supporting algorithms to significantly extend the operating limits of stable flight. Furthermore, without the need to frequently replace batteries, hydrogen fuel cells will also lower long-term ownership costs for organizations implementing drone technology at scale.
The H2D55 is the first in a planned lineup of 3 Hydrogen fueled drones that will be released during 2023. The additional models will have increased payload capacity while preserving the longer flight endurance.
HevenDrones has designed its carbon-neutral H2D product-line to be fully customizable to the unique goals of its commercial and defense clients. Commercial use case examples range from last-mile and just-in-time (JIT) delivery, measuring the nutrient levels of soil and precision crop spraying to collecting risk-assessment data for construction companies, surveying real estate for reforestation projects and aiding emergency responders in risk assessment and delivery of life saving equipment. Defense use cases include more extensive surveillance missions and supplying larger quantities of medical aid, food and ammunition to soldiers.
Hydrogen Drone from HevenDrones on Vimeo.
Hydrogen Drone Ecosystem
The use of hydrogen fuel cells enables a more streamlined design, resulting in drones that are light, safe, suitable for multiple tasks, and highly efficient in terms of total ownership cost.
Refueling the company's hydrogen-propelled drone can be done quickly and efficiently, requiring less than 10 minutes for a 2-hour flight. HevenDrones offers
mobile and field refueling systems which are easy to operate and can provide the user with almost unlimited possibilities at an affordable price tag.
HevenDrones' hydrogen-powered drone platform corresponds with global Smart City initiatives that place mobility, sustainability, and accessibility at the forefront. The hydrogen economy will potentially play a crucial role in the Smart City revolution by enabling a move towards reusable, clean energy on a global scale.
Stabilized Drone Platforms with Heavy-Lifting Capabilities
HevenDrones offerings include lithium battery-powered drones with heavy lifting capabilities and autonomous operation options.
HevenDrones H100 is an advanced heavy-lift drone platform. With a 77 lb. payload capacity, a maximum flight time of 40 minutes, and the ability to use a true flying robot beyond many readily available platforms, Heven Drones' H100 is ideal for defense and logistic missions, to ensure the safety of ground forces.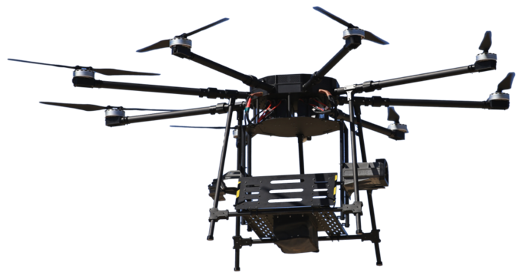 H100
Maximizing payload while remaining below the civilian weight limitation of 55 lbs., "Urban" is a multi-rotor drone platform offering flight endurance of up to 37 minutes with a maximum payload of up to 8 kg. Compromising of an aircraft, autopilot, a bi-directional communication system capable of video and telemetry broadcast, and a control box, the Urban drone platform utilizes 25,000mA Lithium Polymer batteries.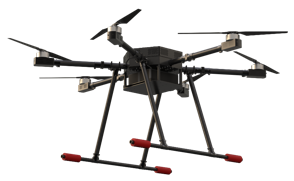 Urban
Autonomous Container System Drone Platform
Based on the company's "Urban" multi-rotor drone platform, the ACS (Autonomous Container System) drone system autonomously lands the right payload at the right place, with an accuracy of three to five centimeters, and then identifies the correct new payload for pickup, and connects to it autonomously. It is an ideal and innovative solution for complete autonomous logistics missions.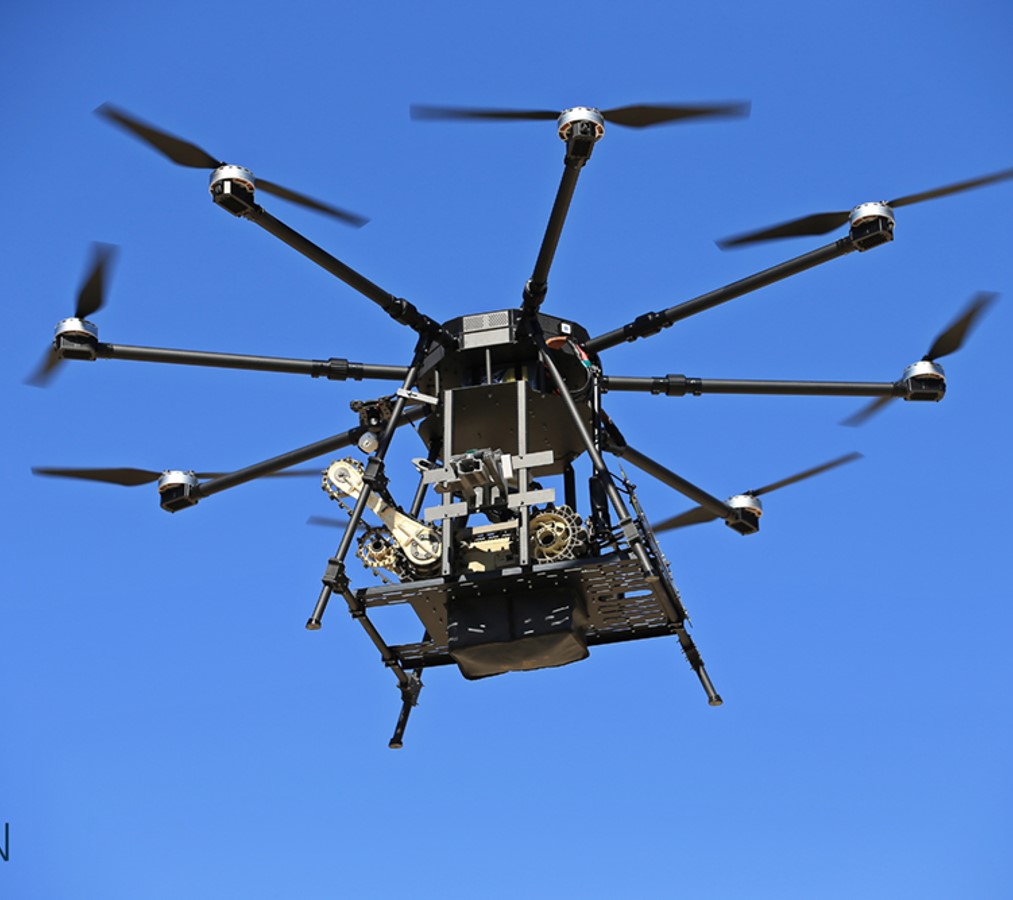 Robot Carrier.
Immediate Manufacturing Capability and an Expert Team
With an immediate production capability of over 250 drones per month, HevenDrones offers a 1,000 m2 production facility adjacent to its R&D and administrative offices in Israel. With four production lines and skilled manufacturers, the company produces drones that are a class apart due to their superior lifting capacities, flight endurance and stability. The company's after-sale support can continuously add and replace features, according to each client's changing needs.
With over 50 years of combined experience in technological development, and coming from military, engineering and scientific backgrounds, Heven's leadership team is uniquely positioned to navigate the future of actionable drones and their diverse range of use cases.
The company enjoys a strategic partnership with Plug Power (NASDAQ: PLUG), and is a partner and supplier of the Israel Ministry of Defense (MoD).  The company has offices in Israel and in the U.S.