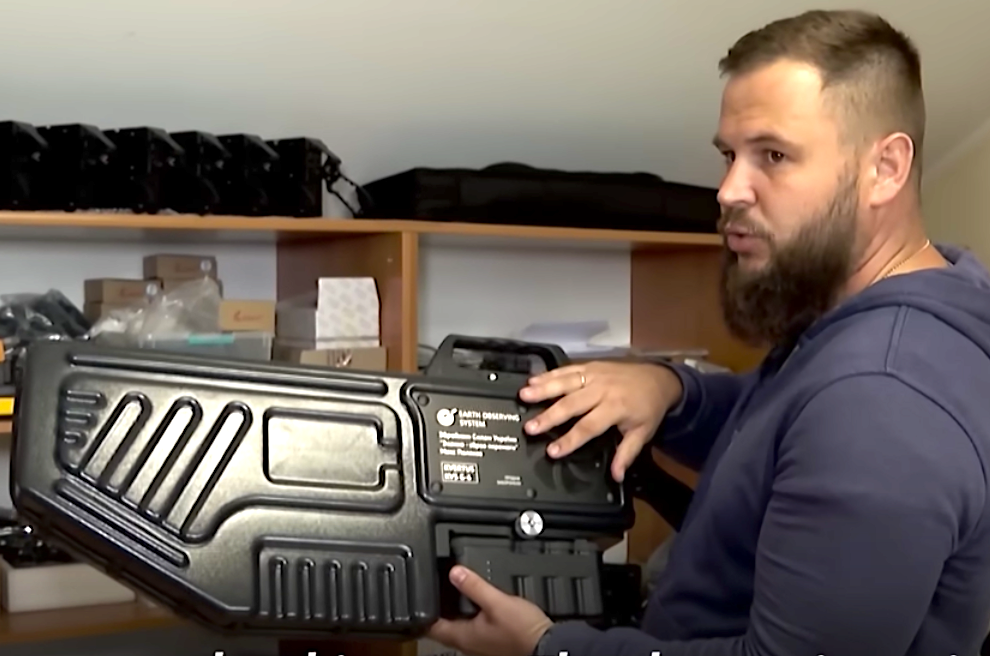 ---
A new "drone gun" is entering the war against Russian invaders in Ukraine.
Manufactured in the western Ukraine region of Ivano-Frankivsk, the Kvertus Technology Antidron KVS G-6 disables drone threats using radio signals to remotely disrupt and disable control of UAVs. The Antidron KVS G-6 has a defensive range of a little more than two miles.
"We are not damaging the drone," says Kvertus director of technology Yaroslav Filimonov. "With communication lost, it just loses coordination and doesn't know where to go. The drone lands where it is jammed, or can be carried away by the wind because it's uncontrollable." 
The "undamaged" aspect of drones neutralized by the Antidron KVS G-6 is a key strategic benefit, as Ukrainian soldiers can retrieve downed Russian drones and use them to recover potentially valuable intel. 
The gun was designed to provide simple aim-and-shoot operation—even in stressful battlefield situations—and all components are housed in a plastic frame with a battery attached (which is similar to an ammo magazine). Kvertus asserts the Antidron KVS G-6 can disrupt 2.4GHz and 5GHz remote control and video transmission, as well as GPS L2 (and L1) and GLONASS signals.
Radio Free Europe has reported that 80 KVS G-6s have been produced since the Russian invasion of Ukraine began, with more than 100 additional guns on order. Many of those orders have come not from the Ukrainian army, but from volunteers and donors who are suppling Ukrainian military units fighting in the front lines. One Antidron KVS G-6 costs $12,000.
WATCH FOR MORE INFO