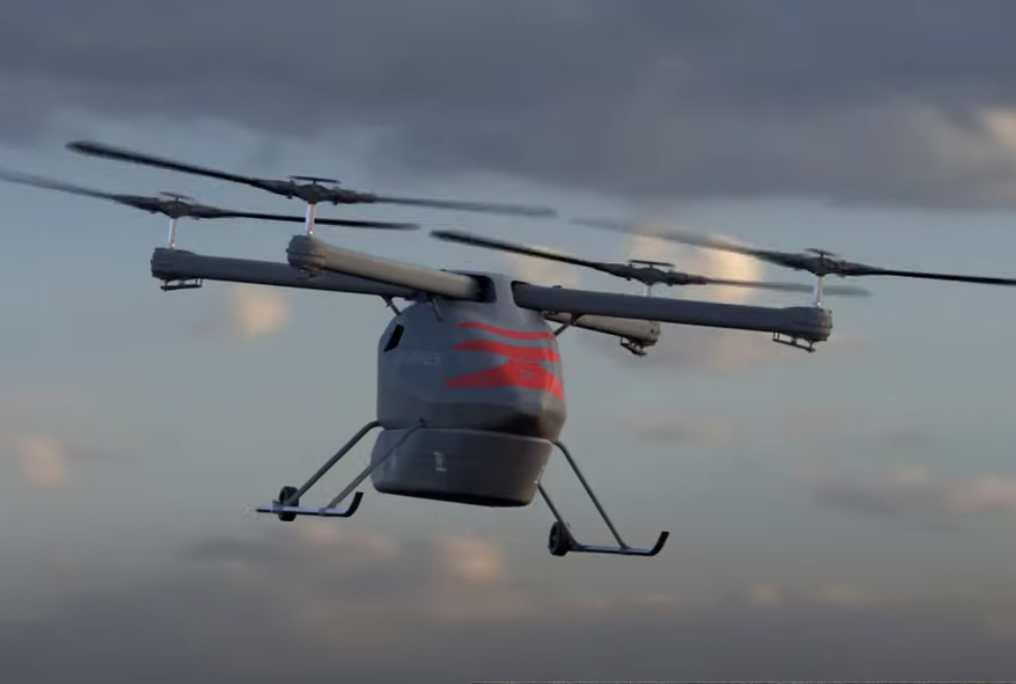 ---
20 July 2023
At the May Association for Uncrewed Vehicle Systems International (AUVSI) XPONENTIAL 2023, held in Denver, Colorado, Kaman Corporation (NYSE: KAMN) displayed KARGO UAV—arguably the largest quad-rotor system at the show. The rotor system spans 24 ft in the flight-ready configuration and folds and ships in a 20-foot ISO container.
Charlie Kaman: A Trailblazer in Rotary Aircraft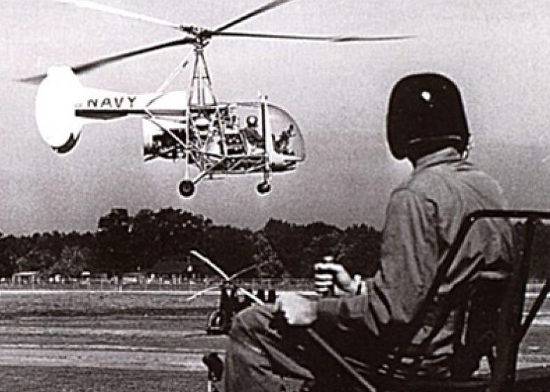 Charles Huron Kaman (1919-2011) was a 26-year-old engineer in 1945, when he founded Kaman Aircraft Company in the garage of his mother's West Hartford, Connecticut home with $2,000 invested by two friends. He started the company to demonstrate a new rotor concept he devised to make helicopters more stable and easier to fly. Over the next half-century, Mr. Kaman built the company into a worldwide leader in the aviation industry. Kaman Aircraft, now Kaman Corporation, has become a billion-dollar company. (For the musicians in our reader community, Kaman also founded Ovation Guitars in 1966, and used aerospace composite materials in their design.)
Kaman was a pioneer in the development of the unmanned helicopter. He developed the remotely-controlled HTK-1 in the 1950s, and conducted testing of his Shipboard Very Low-Frequency System on the cruiser USS Wright (CG-2) in the early 1960s, using two QH-43G Huskie drones without a single mishap during the extended sea trials.
Kaman helicopters saw extensive service in Vietnam, with both the HH-43 Huskie and UH-2/SH-2 Seasprite conducting numerous operations for the United States Air Force, Marines, Navy, and several partner countries. While both are retired from US military service, the SH-2 is still in use by multiple foreign militaries, and some HH-43 are still in civilian use.
Starting in 1998, Kaman ventured into unmanned helicopters again, this time adapting the K-1200 K-MAX "aerial truck". In early 2007, Kaman partnered with Lockheed Martin (NYSE: LMCO) to develop an unmanned, Remotely Piloted Aircraft System (RPAS), vehicle version intended for use in hazardous missions. In 2011, two unmanned K-MAX helicopters were delivered to the United States Marine Corps for use in the Afghanistan theater of operations. In December 2011, the Marines conducted the first unmanned aerial system cargo delivery in a combat zone using the unmanned K-MAX, moving approximately 3,500 pounds of food and supplies to troops at Combat Outpost Payne.
Originally intended as a short, limited-objective experiment in Afghanistan, the USMC kept the unmanned K-MAX helicopters in theater for nearly three years. Operating almost exclusively at night, the Kaman UAS lifted over 4.5 million pounds of cargo that would otherwise have been delivered by ground convoy which would have exposed hundreds of Marines to deadly IED attacks. Unmanned K-MAX also demonstrated operational capability in firefighting, dropping more than 24,000 pounds of water onto a target fire.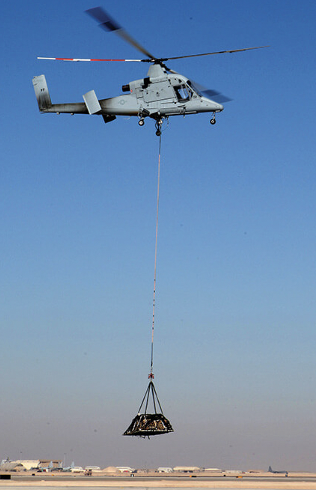 KARGO UAV and Autonomy
Although the work done in Afghanistan with the USMC did not lead to a program of record, it did aid the Corps in development of a follow-on effort: the Medium Unmanned Logistics Systems—Air (MULS-A) program. Under the program, the UAS will be evaluated on its ability to perform a distributed logistics mission in a contested environment. The goal of the project is to demonstrate a UAS that can carry logistics payloads between 300 and 600 pounds to a combat area with a radius of 25 to 100 nautical miles.  KARGO UAV is designed to do just that.
KARGO UAV is a purpose-built autonomous medium-lift logistics vehicle. Kaman began development of the KARGO UAV Medium Lift UAS in early 2021, with a half-scale demonstrator flown in the Fall of 2021. The full-scale demonstrator will fly in 2023. Near Earth Autonomy, from Pittsburgh, PA was selected as the autonomy provider on KARGO UAV, and parallel testing is ongoing for the autonomy systems that will be employed on KARGO UAV.
The primary mission of KARGO UAV is to provide military and commercial logistics support. For military customers, KARGO UAV provides a low-cost, low-risk alternative to manned flight operations in a contested environment.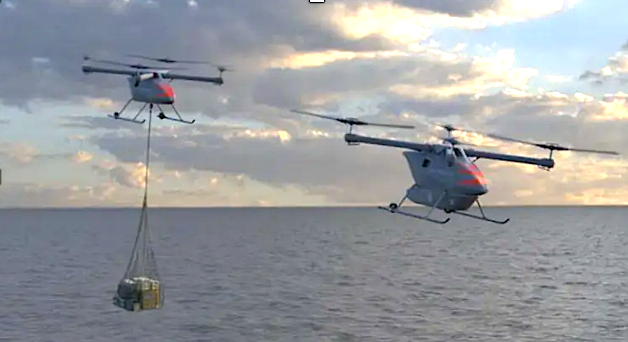 Built with the Marines' future operating concept in mind, KARGO UAV offers a rugged design optimized for expeditionary logistics. The compact form factor of the system fits in a standard CONEX shipping container and is designed to be unloaded and operated by as few as two people.
For commercial customers, KARGO UAV provides an economical platform that can conduct cyclic, reduced-risk operations during bad weather or during the periods of darkness. As a testament to that, Kaman and Petroleum Helicopters International (PHI Aviation LLC) has entered into a master commercial agreement for the promotion, sales, and support of a commercial version of Kaman's KARGO UAV unmanned aerial system, including collaboration relating to its ongoing design and certification. In connection with that agreement, Kaman and PHI entered into a Non-Binding Memorandum of Understanding outlining PHI's intent to purchase 50 units of Kaman's commercial KARGO UAV. Kaman and PHI expressed their commitment to work together to bring KARGO UAV to the broader commercial market and offer field support in the future.
"Its total weight is about 2800 lb. [1270 kg], and cargo capacity makes up to 800 lb. [362.87 kg] of that," said Kaman's Barry Maxwell, Senior Director of Business Development. "The cargo system is configurable such that freight can be flown in a conformal pod or carried by external sling load…."  While we are focused on cargo operations, the large payload capacity can support a host of other mission-specific payloads, if the customer desires.
KARGO UAV's fuselage is composed largely of a composite shell around a lightweight aluminum structure, with the pod fitted underneath between two landing skids. A gas turbine engine powers the UAV's mechanical propulsion architecture, with the four rotors mounted above the fuselage on an X-shaped set of arms. Many factors influenced the decision to go with a turbine power plant and mechanical drive system.  "At the end of the day, we settled on what we consider the intersection of simplicity and necessary complexity...We needed a UAV that leveraged proven and affordable technology to deliver cargo to our customers with the highest degree of reliability and mission assurance. When the weight and power density of batteries or the availability of fuel cells in austere environments can meet the requirements, we can reevaluate and adjust."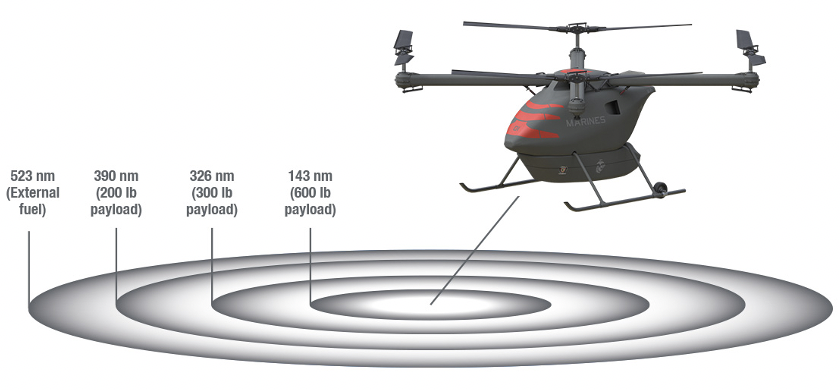 KARGO UAV is designed to carry a 90 kg payload for distances up to 722 km (390 nm) in 3.3 hours or a 272 kg payload up to 265 km (143 nm) over 1.2 hours. Alternatively, if equipped with a 22.7 kg payload and required to hover in place (for instance, in a comms relay or airborne persistent surveillance capacity), it can do so for up to 4.7 hours. KARGO can also self-deploy beyond 926 kilometers (500 nautical miles) with no cargo onboard.
To the Future…
"With systems like KARGO UAV continuing to push the boundaries, I see a very bright future ahead for medium lift UAS, especially in the vertical lift arena," said Maxwell. "With growing interest in the energy sector for resupply at sea and in remote areas, middle- and last- mile logistics eliminating trucks, as well as Search and Rescue, nighttime firefighting, disaster relief and Casualty Evacuation (CASEVAC) the case for further developing medium- and heavy lift autonomous UAS capability is definitely strong."
Learn More