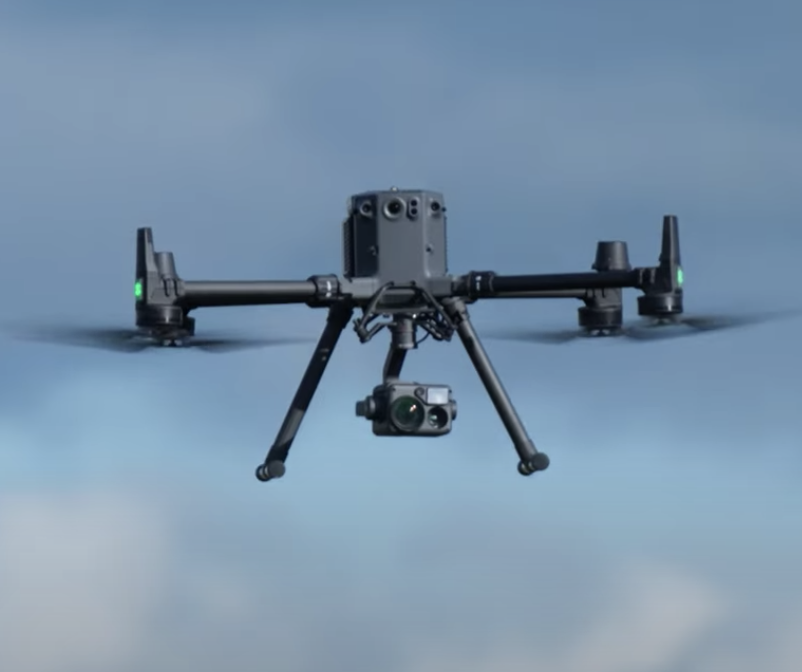 ---
20 September 2023
Maurice Mugo, a digital content producer at DSLR Pros, offered to share this product guide with The Droning Company community.
Let's dig in...
It's that time of year again when we round up the best of the best in long-range drones. As drone technology continues to improve, it's fair to ask: what makes a drone truly 'the best' in 2023? Is it the incredible reach they possess, or is it the superb camera quality that leaves us in awe? Maybe it's the longevity of flight, or those additional features that take them to the next level?
RATING CRITERIA 
Transmission Range

: Now, when we say 'long-range drones', what do we mean? Picture this: you're flying your drone above a mesmerizing mountain range or a sparkling beach. You want to go further, reach higher, and capture more. But how far can your drone go before it loses connection? The transmission range is the invisible leash that binds your drone. A greater range means more exploring, more freedom, and more stunning footage, wouldn't you agree?

Camera Quality:

 What's the point of going the distance if the images and videos you get are grainy or out of focus? A top-quality camera is a drone's eye, its way of capturing the world from dizzying heights and unimaginable angles. From 4K resolution to image stabilization, to low-light performance, we're looking for drones that turn the world into art, frame by frame. Who wouldn't want that kind of clarity and detail in their footage, right?
Flight Time: It's the question that hovers in the back of all our minds, how long can my drone stay airborne? A drone that has a longer flight time allows for extended periods of exploration and footage capturing. Imagine finally getting the perfect angle for that sunset shot only to have the drone's battery die. Frustrating, right?
Other Features: This is the cherry on top of the already delicious drone cake. Does the drone have an obstacle avoidance system? It's like a protective shield that helps prevent those oops-moments when your drone kisses a tree instead of avoiding it. Does it fold up neatly, making it a perfect travel companion? And of course, the million-dollar question (or hopefully less): what's the price tag? Getting more bang for your buck certainly sweetens the deal, doesn't it?
THE TOP 5

#1 DJI Matrice 350 RTK
2023 saw DJI launch their new flagship – the Matrice 350 RTK. This marvel of drone engineering is setting a new benchmark in the commercial drone industry. From public safety and energy, to mapping and forestry, this drone's adaptability and efficiency are second to none.
Let's dive right into the juicy details of what has landed it the #1 spot on our list of 2023's long-range drones:
- Transmission Range: The DJI O3 Enterprise Transmission system gifts this drone with a max transmission distance of a whopping 20km (longest ever for a DJI product). It achieves this with a four-antenna transceiver system, meaning the drone can select the best antennas to transmit and receive signals, enhancing anti-interference capabilities.
- Camera Quality: The M350 RTK can handle a range of payloads and offers a wide choice of cameras, like the Zenmuse H20 series with its zoom camera, wide camera, thermal camera, and laser rangefinder. It also offers support for third-party payloads like gas detectors, loudspeakers, and multispectral sensors.
- Flight Time: One of the most impressive things about the M350 RTK is its max flight time. Ready for this? It can fly for up to 55 minutes on a single charge!
But there's more! The M350 RTK also comes packed with safety features that make it a standout choice. It cranked things up from IP45 with its predecessor to an IP55 rating, meaning it's more resilient to tough flying conditions. Night flights are safer with the enhanced FPV camera. It also has a six-directional binocular vision and infrared sensing system for better awareness, positioning, and obstacle detection.
Oh, and did I mention the AI Spot Check feature? It automates routine inspections and captures consistent results each time, which is incredibly handy in search and rescue operations. 
The DJI RC Plus controller, coming standard with the drone, is designed for a flexible and intuitive piloting experience. With an operating temperature of -20° to 50° C, it's ready to support operation in even the harshest environments.
And let's not forget about cost efficiency. The new TB65 battery comes with a 100% increased battery cycle count and you can charge it up to 400 cycles, translating to lower costs for each  single flight.
So, for all you commercial drone operators out there, the DJI Matrice 350 RTK is a game changer! It's more than just a drone; it's an incredibly adaptable, safe, and efficient tool for any aerial operation. The DJI M350 RTK Drone Combo with Care Plus goes for $12,559.00 USD, or you can go for the package with the Care Basic Package at $11,729.00 USD.
Who it's best for: M350's features make it an ideal drone for professionals requiring to perform detailed inspections, precise mapping, and efficient monitoring over large areas. Its adaptability makes it a valuable tool for emergency services & search and rescue teams, infrastructure maintenance, the energy sector, and agricultural operation including monitoring crops, assessing plant health, and managing large forestry areas. 

#2 DJI Mavic 3 Pro
Sitting comfortably at the number 2 spot on our list is none other than the phenomenal DJI Mavic 3 Pro. Let's get into what makes this beast a must-have for any serious drone hobbyist or professional user:
- Transmission range: 15km HD Video Transmission
- Camera quality: Triple Hasselblad camera system, with a native dynamic range of up to 12.8 stops. It can capture up to 5.1K at 50fps or DCI 4K at 120fps, presenting breathtaking image details.
- Flight time: A generous 43-minute maximum flight time
DJI has been making some serious waves in the drone world with the Mavic 3 Pro. This flagship drone features a world-first triple camera system, allowing you to switch between shot compositions with just a tap. Each camera provides a different focal length (24mm/70mm/166mm), providing you with incredible versatility for your aerial storytelling.
Not only is the Mavic 3 Pro a game-changer when it comes to capturing awe-inspiring aerial content, but it's also a dream to fly. With DJI's signature Omnidirectional Obstacle Sensing, you can navigate with ease, and the 43-minute flight time lets you concentrate on your storytelling rather than battery life.
The drone's camera quality is nothing short of outstanding, courtesy of the Hasselblad camera. It supports 12-bit RAW photos, delivering enviable shots with accurate colors, thanks to the Hasselblad Natural Colour Solution (HNCS). And when it comes to video, this drone can capture up to 5.1K at 50fps or DCI 4K at 120fps!
Furthermore, the Mavic 3 Pro packs in DJI's full suite of intelligent features. These include FocusTrack, which includes ActiveTrack 5.0, Spotlight, and Point of Interest. It also offers MasterShots, which auto-generates cinematic footage, and QuickShots for diverse camera movements. You can get your hands on this - together with the RC controller, for $2,199.00 USD. 
Who it's best for: Given its superior features, the DJI Mavic 3 Pro is a perfect match for both seasoned drone pros and enthusiastic hobbyists who want to push their creative boundaries. From exploring visual storytelling to capturing mesmerizing scenic views, this drone has got you covered!

#3 Autel Evo II Dual 640T V3
Coming in at number 3 on our list of 2023's best long-range drones is a real heavyweight - the Evo II Dual 640T V3. It's a unit that blends infrared imaging and 8K video capability into one stellar package. 
Key features include:
- Transmission Range: An impressive 15km, giving it a definite edge over its predecessor, the Evo II Dual 640T V2, which had a range of 9km. 
- Camera Quality: A stunning 50MP ultra-sensitive camera equipped with a 0.8" RYYB CMOS sensor. This is a significant upgrade from the V2's 48MP camera and 0.5" sensor. 
- Flight Time: A robust 38 minutes, giving ample time to capture all the data you need.
This machine has several notable features that give it the edge over many competitors. For starters, it's equipped with a 640 x 512 high-resolution thermal imaging camera, offering 16x digital zoom for observing distant targets. Its 360° obstacle avoidance, using 19 groups of sensors, enables three-dimensional mapping and real-time path planning.
And all this for $6,999 USD (Enterprise bundle).
Further, the Evo II Dual 640T V3 has multiple temperature measurement modes, offering central, spot, and regional temperature measurement, a temperature alarm, image enhancement, and even a powerful infrared thermal analysis tool. This drone offers 10 thermal color palettes and a picture-in-picture display mode to aid in critical decision making.
The upgraded Autel Skylink 2.0, enhanced with tri-band communication, ensures maximum anti-interference capabilities. Coupled with the Smart Controller V3's 7.9-inch high-brightness screen, it's a game-changer for long-distance operations. Moreover, it supports Live Deck 2, providing real-time HD video transmission for enhanced situational awareness.
Who it's best for: This drone is suited for professionals in fields such as security, search and rescue, construction, and environmental monitoring, thanks to its high-resolution thermal imaging and superior flight time. Moreover, it's an excellent tool for hobbyists looking for a long-range, high-performance drone that offers top-notch camera features.

#4 DJI Mavic 3 Classic
Following closely is the Mavic 3 Classic. If you're seeking a premium flying camera without a hefty price tag, this drone could be your perfect match. While it may not match the Mavic 3 Pro in photography and filming, the Mavic 3 Classic certainly doesn't fall short in flight performance.
Here are some quick specs:
- Transmission range: Up to 15 kilometers (9.3 miles) with the O3+ transmission system
- Camera quality: 20-megapixel camera, capturing up to 5.1K/50 fps, 4K/60 fps and 1080p/60fps videos; offering 12.8 stops of native dynamic range
- Flight time: Maximum 46-minute flight time on a single charge
The Mavic 3 Classic also sets itself apart from the original Mavic 3, with an offering that doesn't include an additional telephoto lens, which consequently makes it a more pocket-friendly option. The drone is compatible with existing DJI RC Pro, DJI RC, and DJI RC-N1 controllers.
Other remarkable features include the Intelligent ActiveTrack 5.0 system for professional-quality videos, a night shot video mode for low-light scenarios, and the high-speed QuickTransfer for easy image and video downloads. Mavic 3 Classic comes with a full array of safety features too, boasting eight visual sensors for obstacle detection and APAS 5.0 for obstacle avoidance and route planning.
Who it's best for: With its top-of-the-line camera and flight capabilities, it's a perfect choice for creators looking to upgrade their drone game without breaking the bank. Whether you're a seasoned drone pilot or just beginning to explore the world of aerial photography, the DJI Mavic 3 Classic is a solid contender to consider. 

#5 Autel Evo II Pro V3
This new titan in the drone industry is the successor to the Evo II Pro V2, taking things up a notch with exceptional upgrades that make it an absolute powerhouse. Here's a quick overview of the Evo II Pro V3:
- Transmission range: Up to 9.3 miles (15km)
- Camera Quality: All New 6K 1" CMOS, 20MP Photo, 6k/30FPS Video, f/2.8 ~ f/11 Aperture
- Flight Time: An impressive maximum of 40 minutes
But the Evo II Pro V3 isn't just about the numbers, there are some notable features setting it apart. Compared to the Evo II Pro V2, the V3 boasts a higher maximum ISO of 440000 in Night Mode, thanks to Autel's Moonlight Algorithm 2.0, offering superb low light performance. It also upgrades to the Autel Skylink 2.0 for video transmission, boosting the range to 15km. It comes with a next-gen 6.4-inch Smart Controller SE, offering better performance and convenience than its predecessor.
The V3 maintains the robust 360° obstacle avoidance system, providing safer flights even in complex environments. It's also highly compatible with applications like Pix4D, DroneDeploy, and SkyeBrowse, making it an excellent tool for accident reconstruction. The enterprise bundle comes in at $4,300 USD.
Now, a heads up - the V3 is quite heavy, tipping the scales at 2.62 lbs (1187 g). This could mean that in some countries and territories, you may need a specific license to operate it. 
Who it's best for: The drone is best suited for those in professional fields like public safety, mapping, search & rescue, security, and firefighting. With its advanced features and strong performance, it is a reliable partner for operations requiring high-quality footage, night or low light functionality, and long-range transmission.
GO FURTHER!
Click here to see DSLR Pros full guide—ten more models with video content.